金币

8721 枚

体力

16802 点
" i+ W% ~. w9 n' J
5 P, ?" x6 v w, C J2 g" S
◎译  名 血干倘卖无 c) _- D4 K% H2 N8 J
◎片  名 Dry Blood
◎年  代 2017' Q) C1 a- i. ~* L0 m
◎产  地 美国2 C8 b8 O" K9 Y# p4 P3 ?5 g
◎类  别 恐怖
◎语  言 英语
◎上映日期 2017-04-23(Dead by Dawn Horror Film Festival)/2019-01-11(美国)
◎IMDb评分 4.5/10 from 410 users( @2 x6 g( d4 N6 m8 h
◎IMDb链接 https://www.imdb.com/title/tt5195828/
◎豆瓣评分 0/10 from 0 users: }( l/ I( J: o3 O8 ?6 E1 P
◎豆瓣链接 https://movie.douban.com/subject/26899286/# I# u1 _4 I* l0 V
◎文件格式 x264 + DTS * A L" |8 d/ \. {
◎视频尺寸 1920 x 1080, r/ v& n6 ?6 b5 E8 U
◎文件大小 1DVD 13.61 GiB! U: w, v2 l6 P2 e+ D- k, R
◎片  长 1 h 24 min) }1 ]1 g" i$ ~- B, }+ b
◎导  演 Kelton Jones
◎编  剧 Clint Carney
◎主  演 Clint Carney
      Jaymie Valentine
      Kelton Jones1 Y0 J: p4 T- A" ]" E

◎标  签 美国 | 惊悚 | 恐怖 | 2017 | 美国电影 | 恐怖电影 | 亲情
+ q$ R0 q1 V3 u
◎简  介

  在一个乡村山区小镇,一个不稳定的吸毒者必须揭开一个超现实的谋杀谜团,因为他被恶毒的幽灵、精神错乱的治安官和他戒毒后产生的可怕幻觉吓坏了。* M) ?6 ~6 b* o* E% U1 f! [! c

  In a rural mountain town, an unstable drug addict must unravel a surreal murder mystery as he's terrorized by malevolent ghosts, a deranged sheriff, and the frightening hallucinations from his withdrawal.5 A+ z* Y; Z6 ]) z" m7 A" {/ c* Z
1 s2 j4 A1 _# l" w+ L5 Q

Video+ x+ Z$ c% U3 h
ID : 1
ID in the original source medium : 4113 (0x1011)
Format : AVC
Format/Info : Advanced Video Codec
Format profile : High@L4.1
Format settings : CABAC / 2 Ref Frames" J$ J) M$ X( t5 |4 d
Format settings, CABAC : Yes4 t" n C2 M/ z$ P& K* V- v) Y
Format settings, Reference frames : 2 frames. d. j% l2 @! |. F
Codec ID : V_MPEG4/ISO/AVC. o S# `- k2 P+ f+ p' n
Duration : 1 h 24 min- u" e- x3 T& u0 V' Y8 k
Bit rate mode : Variable8 X2 n( N' i# c2 `: x U
Bit rate : 21.7 Mb/s
Maximum bit rate : 30.2 Mb/s5 k O% n2 G- [
Width : 1 920 pixels: j' n% V9 X; ?
Height : 1 080 pixels
Display aspect ratio : 16:9
Frame rate mode : Constant
Frame rate : 23.976 (24000/1001/37687) FPS# O4 |5 q4 ]3 V! W; ?6 F. `9 s
Color space : YUV( ?! c: S4 h0 M' v" D7 h! L
Chroma subsampling : 4:2:0
Bit depth : 8 bits
Scan type : Progressive
Bits/(Pixel*Frame) : 0.437
Stream size : 12.8 GiB (94%) [4 X& {# ]% g- L' M i
Title : Dry.Blood.2017.1080p.BluRayCD.REMUX.AVC.DTS-HD.MA.5.1-FGT' v8 f3 [* ?3 I4 k
Language : English) [4 N" x- W" e% F
Default : No
Forced : No
Original source medium : Blu-ray f9 o4 X& \) k! L# G7 c. W( c+ H
% d6 L$ n, U; y; N# f$ r7 d
Audio
ID : 2
ID in the original source medium : 4353 (0x1101)
Format : DTS XLL
Format/Info : Digital Theater Systems& z: z3 M* m0 o& T) H& Y6 t
Commercial name : DTS-HD Master Audio
Codec ID : A_DTS$ |6 N+ f, v2 K" t2 H# F r
Duration : 1 h 24 min
Bit rate mode : Variable
Bit rate : 1 432 kb/s
Channel(s) : 6 channels
Channel layout : C L R Ls Rs LFE
Sampling rate : 48.0 kHz
Frame rate : 93.750 FPS (512 SPF)% n* M" P4 ~: g" F, d) t6 G6 ]
Bit depth : 16 bits
Compression mode : Lossless
Stream size : 862 MiB (6%)
Title : Dry.Blood.2017.1080p.BluRaycd.REMUX.AVC.DTS-HD.MA.5.1-FGT7 c! u# e3 `# D, i5 s1 U4 c8 z( [
Language : English8 [) m- ]2 @5 R9 r2 Z6 O
Default : Yes
Forced : No1 w- [! v( h) [$ o+ {, o
Original source medium : Blu-ray

Text
ID : 3
Format : UTF-8% D3 ?$ | d: k# d9 a+ b8 s% w
Codec ID : S_TEXT/UTF81 C! }6 Y# b5 X$ |& i# d
Codec ID/Info : UTF-8 Plain Text+ d) G/ e% G8 t1 Q; |3 p( c, c
Duration : 1 h 23 min
Bit rate : 39 b/s
Count of elements : 850
Stream size : 24.5 KiB (0%)
Title : English-SRT
Language : English2 b# `! v7 E: G* g- \
Default : Yes
Forced : No

Menu
00:00:00.000 : en:Chapter 01
00:02:32.944 : en:Chapter 02
00:10:12.194 : en:Chapter 03
00:22:16.209 : en:Chapter 047 C) |. I- J+ |$ m
00:33:44.897 : en:Chapter 05
00:41:44.335 : en:Chapter 06
00:53:15.400 : en:Chapter 070 P6 r% Y( h! N
01:02:51.350 : en:Chapter 08
01:08:58.008 : en:Chapter 09) A+ ?/ c# [8 G3 h
01:13:27.778 : en:Chapter 10 G) E9 r0 {* Z* E# G( @
01:19:19.504 : en:Chapter 11% b! {$ X {4 {; E' c3 ~
01:22:22.020 : en:Chapter 12
Dry Blood Blu-ray, Video Quality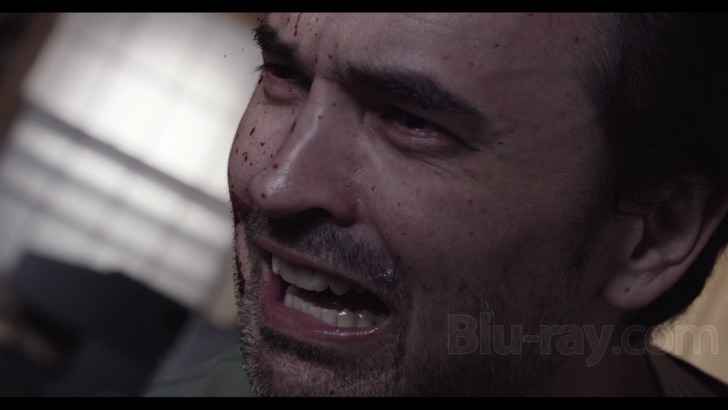 & c& h) Y' l6 {: L& V
The AVC encoded image (1.90:1 aspect ratio) presentation delivers a comfortable look at the HD-shot feature, maintaining an encouraging level of detail, securing facial particulars and interior decoration. Gory incidents are also available for study, along with exteriors, which retain the rural seclusion of the setting. Colors are inviting, with deep reds with bloodshed and brighter primaries for costuming. Visits to a local store offer more varied hues with labels and signs, and greenery is intact. Delineation is adequate, but some stretches of blackness are milky, losing their natural appeal. Banding is periodically detected during the viewing experience.( |* j/ l% A/ Y) E* h5 o+ v5 G
7 h* g. U/ S. j9 ^, K) \$ m9 b; J
Dry Blood Blu-ray, Audio Quality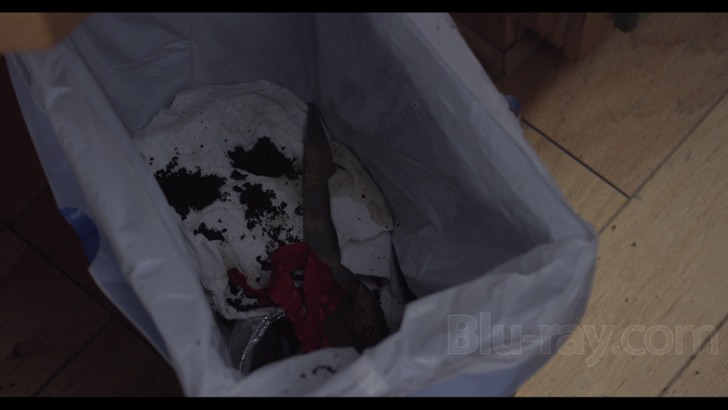 $ \, s, N" p: G, P% r& N' D7 C
& O9 o! Y \ M; A" `+ V
The 5.1 Dolby Digital sound mix preserves conversations, as dialogue exchanges lead the way in "Dry Blood." Heated exchanges and acts of panic maintain stability, never distorting extremes. Scoring is supportive and crisp, along with a few soundtrack selections. Surrounds push out music and manage some atmospherics, but largely remain sedate. Low-end is minimal.